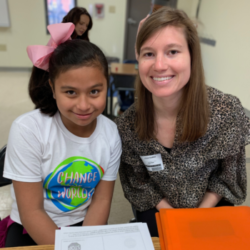 "Heart is the best use of tutors I have ever seen."
Kaneka Turner – CMS Elementary Math Specialist for Title I schools
Theory of Change
Heart Tutoring is the link between a huge, untapped pool of volunteers and the thousands of students who need one-on-one academic support.
Students
49% on grade level in math (2019 NAEP, CMS 4th Grade)
Lack number sense and are falling behind
Need one-on-one, targeted instruction
Volunteers
Large, untapped pool
Willing to help, but have limited time
Quality of past tutoring experiences is varied
An urgent need…
In math, many students have learned to follow rules and procedures without a deep understanding of what they are doing and why. More rigorous standards introduced in 2013 emphasized critical thinking skills and reading; as a result, math proficiency rates plummeted and 51% of 4th graders in Charlotte Mecklenburg Schools (CMS) are not proficient in math. Students with economic disadvantages are prioritized to give them an opportunity to have 1:1 tutoring they may normally not be able to afford Building a strong foundation in math will strengthen skills needed by all students to succeed in Algebra I, a high school graduation requirement.
…met with a powerful resource
Volunteer time is a resource available to public schools that is not being fully leveraged. Heart Tutoring's activity-based, structured curriculum and on-site student & tutor support enables all volunteers to be effective in delivering one-on-one instruction with a commitment of just one hour per week, allowing them to fit volunteer service into their busy lives and feel confident that their efforts are making an impact.
By helping schools use volunteers as tutors, Heart Tutoring volunteers collectively provide 50 hours per week, per school, of targeted, one-on-one instruction that would otherwise not be available.