Category Archives:
Heart Staff
03.03.2019
March 14th is Pi Day (3/14), and representatives from Heart Tutoring will be hitting the town for informal/optional gatherings all day with any tutors, donors, friends, and staff who want to meet. Check out who, when, and where below.
8 – 9AM coffee at Panera on Fairview (w/ Sally)

8 – 9AM coffee at Amelie's on College Street (w/ Emily)

9:30 – 10:30AM coffee at Dunkin Donuts on Independence (Linda + Alexis)

11:30AM – 12:30PM lunch at Panera in the University Area (Alexis)

12 –
…
continue reading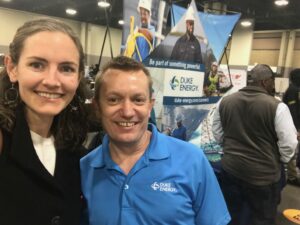 For anyone interested in getting more plugged into the cause around math, education, and/or opportunity, we are keeping math stats and event opportunities coming during the month of March.
Math Matters!
Did you know that math achievement at age 7 is predictive of socioeconomic status at age 42? This is after controlling for IQ, academic motivation, and socioeconomic status at birth. (Ritchie & Bates, Enduring Links From Childhood Mathematics and Reading Achievement to Adult Socioeconomic Status, 2013)
Surprise – not only do school-entry math
…
continue reading
01.03.2019
By Heart Program Managers Sarah Cover and Kelsey Ripley
Sarah and I joined the Heart Math Tutoring team as Program Managers this summer, and in October, we had the opportunity to join Heart Program Director Cydney Kramer in attending the North Carolina Council of Teachers of Mathematics Conference (NCCTM) in Greensboro, NC. We were joined by hundreds of other North Carolina math teachers, facilitators, and researchers. It was inspiring to be surrounded by so many other education professionals who are working to creatively and effectively … continue reading
11.13.2018
Today, UNC Charlotte and TIAA partnered to host the "Making A Difference in the Community" Luncheon to honor Charlotte-area Difference Makers in recognition of TIAA's centennial anniversary. On this #WorldKindnessDay2018, as we 'celebrate and promote good deeds', Executive Director Emily Elliott was among five individuals honored for making a significant difference in the Charlotte community.
"It is exciting to see the work of our volunteers and students getting recognized, and I am honored to accept this recognition on their behalf! If you are … continue reading
Monthly Archives