Category Archives:
Press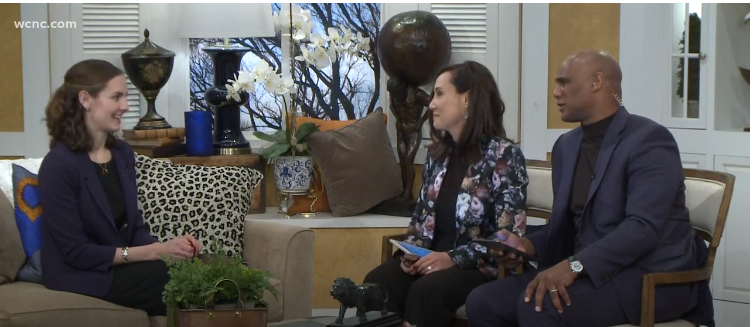 03.14.2019
Closing the elementary math achievement gap may not be easy, but it can be fun. Emily Gaffney, Executive Director of Heart Math Tutoring, shares how volunteer tutors support CMS elementary students who are behind in math with fun games and effective tutoring. "Helping somebody with math is a great way to help them with their life. Our volunteers are there to give high-fives and point students in the right direction," says Gaffney. See the entire interview here.… continue reading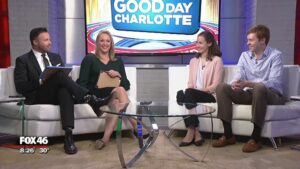 03.11.2019
On March 6th, 2019, Heart Math Tutoring celebrated World Math Day with Fox 46 News. Good Day Anchors Jason Harper and Paige Fehling hosted Executive Director Emily Gaffney and Heart Tutoring tutor at Montclaire Elementary, Charles Duckett. They discussed math education in Charlotte-Mecklenburg Schools and how Heart is supporting student growth. Check out a clip from the interview here!… continue reading
11.13.2018
Today, UNC Charlotte and TIAA partnered to host the "Making A Difference in the Community" Luncheon to honor Charlotte-area Difference Makers in recognition of TIAA's centennial anniversary. On this #WorldKindnessDay2018, as we 'celebrate and promote good deeds', Executive Director Emily Elliott was among five individuals honored for making a significant difference in the Charlotte community.
"It is exciting to see the work of our volunteers and students getting recognized, and I am honored to accept this recognition on their behalf! If you are … continue reading
10.25.2018
Albemarle Corporation and Bank of America recently announced a $20 million investment in Charlotte-area nonprofits to drive local economic mobility!
The companies worked together to select Charlotte nonprofits that will receive funding allocated over the next five years. Each nonprofit focuses on at least one of three key areas: early child care and education; college and career readiness; and family and child stability. These areas were identified as factors of economic mobility in a report by the Charlotte-Mecklenburg Opportunity Task Force, which was formed in response … continue reading
09.12.2018
PRIDE Magazine highlights "Math Tutoring with Heart" on page 22 of its September/October 2018 Health and Education issue, on stands now.
Heart Tutoring is grateful for its many volunteers, like Telia Williams, who are instrumental in helping Heart Tutoring ensure all elementary students develop the strong foundation in math and enthusiasm for academics needed for long-term success. Telia, a financial analyst, has been a volunteer with Heart Tutoring for three years and says Heart Tutoring "Fits in well with my work and personal schedule,"
Monthly Archives