Category Archives:
Uncategorized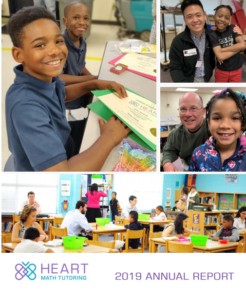 10.10.2019
In FYE 6/30/2019, nearly 1,000 Heart Tutoring students received one-on-one tutoring, and almost every single student showed measurable and meaningful gains in their math skills. 98% met growth goals on pre- and post-assessments. Read Heart Math Tutoring's 2019 Annual Report to see how Heart Tutoring volunteers, donors, and school partners are making a difference for Charlotte students! Thank you!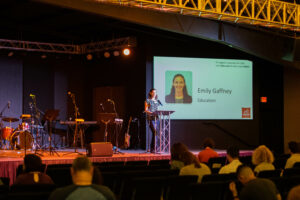 10.09.2019
Heart Executive Director Emily Gaffney led the "Education and Childhood Trauma" session at the Charlotte Justice Conference on 10/5/19. The second annual conference was organized by Christine Nicodemus and Heart tutor Tim Nicodemus and had around 115 guests in attendance at Project 658.
Emily offered context and statistics from CMS's bold Breaking The Link report. The report begins with history of integration and re-segregation of Charlotte schools before sharing that a predictive link still exists between race, school poverty level, and academic outcomes – hence … continue reading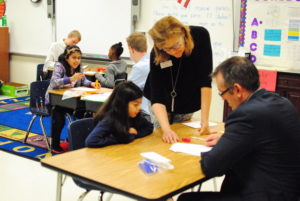 09.26.2019
Check out our latest feature in the Charlotte Smarty Pants magazine:
"CSP Team Note: We recently chatted with Emily Gaffney, Executive director of Heart Math Tutoring. If you don't know this organization, you need to. They're doing incredible things in our community. Enjoy getting to know Emily, Heart Math Tutoring and find out how you can get involved here!"
"The idea was born from community members at Social Venture Partners (SVP) who felt like volunteer tutors could be better used in the public schools. … continue reading

09.03.2019
It didn't take long for Adam Schauer to become a devoted member of the Heart Math Tutoring volunteer team. Heart Tutoring's ability to "immediately impact" the Charlotte community is what first intrigued Adam, a Client Portfolio Manager at Barings, about serving with us years ago. We recently sat down with Adam to hear what makes being a Heart Tutoring volunteer special, in his own words.
"You don't even think about math. You're just interacting with them."
Beyond instilling the life skills that come with … continue reading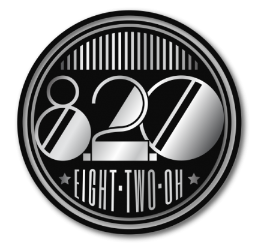 09.17.2019
Heart Tutoring is hosting a Volunteer Kickoff Party to celebrate the start of the tutoring season! Join us at 8.2.0 Pizzeria & Bar on Thursday, September 26, from 6-7:30 PM. RSVP below!
8.2.0 is located at 820 Hamilton St, Charlotte, NC 28206
They have free parking in the parking deck and lot across the street. Just tell the parking attendant you're visiting 8.2.0, and they'll validate your ticket with any purchase! … continue reading
Monthly Archives