Heart Tutoring Program Updates: COVID-19
March 16, 2020
Ways to Help:
Donate to the CMS Foundation's COVID-19 Relief Fund, which is focused on internet access and supporting critical family needs in the school district.
Donate to CharMeck's COVID-19 Response Fund which supports nonprofits that are responding to basic human needs of Mecklenburg County residents.
Support a local food bank – Loaves and Fishes and Second Harvest Food Bank need donations as well as volunteers! View a full list of local food banks here.
Families Forward Charlotte is collecting gift cards in order to continue supporting the families of Mecklenburg County with whom they partner during this time of high need. Click here for more details!
Promising Pages is working with CMS and other community partners to provide up to 50,000 books and other needed items to students across Charlotte.
The Loyalist Market in Matthews, in conjunction with other local restaurants, are providing lunch daily for children impacted by the school closures. Support their campaign here.
Freedom Within Walls is partnering with UrbanPromise CLT, the Grove Church, as well as other Charlotte-area churches, to provide "grab-n-go" food distribution to anyone 18 & under between 11:00am-1:00pm each day. Click here to make a donation or sign up to volunteer an hour of your time.
OurBridge is collecting paper goods and non-perishables, as well as activity books and games for students. Click here for more details and to make a donation
Urban Ministry Center needs donations to continue supporting the individuals they serve in Charlotte who are experiencing homelessness. More details can be found here.
The Bulb is a mobile food pantry serving neighborhoods facing food insecurity. Help them continue to deliver fresh produce by donating through their Amazon Wish List.
The American Red Cross – our current health crisis has led to a severe blood shortage. Eligible and healthy donors are strongly encouraged to make an appointment to provide this vital resource to patients.
Manolo's Bakery is making this time of social distancing fun for students who are celebrating a birthday. They are working with CMS and Ourbridge kids to bring them birthday cakes on their special days! Help them make a student's day by donating to The Cake Project.
If you learn of any volunteer opportunities to support our students and their families please email: volunteer@hearttutoring.org .
Resources:
We are sharing educational and food resources with our students and their families via our social media platforms: Instagram and Facebook. CMS is offering grab and go breakfast and lunches to children under 18 at their designated Meal Distribution Sites.
Families can visit our Family Page for resources and tips to keep their students' skills sharp while out of school. Check out our Spring Math Resources for ways to incorporate math into your child's daily life!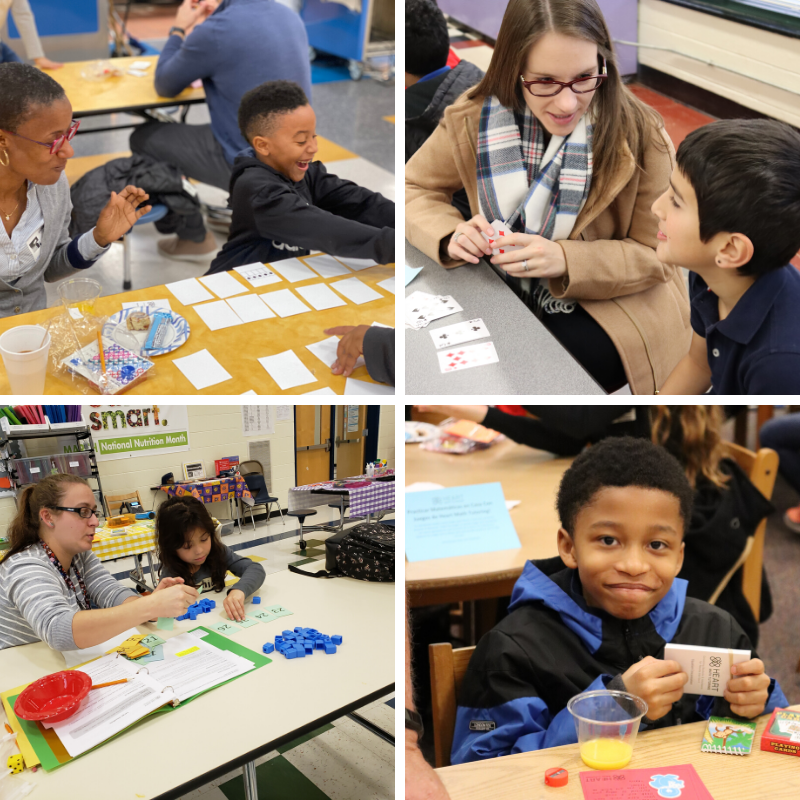 With COVID-19 now in Mecklenburg County and guidance from the state on best practices, Charlotte-Mecklenburg Schools are temporarily closed. This means Heart Tutoring's program in the schools will be paused until future notice.

We all care deeply about our Heart Tutoring students, and we thank you for your shared commitment to doing what is in the best interest of our students, families, and community in this unfortunate situation.

The impact that our tutors have made this year is incredible. As of this week, we have had 1,191 students and 1,330 tutors who worked together each week to strengthen our students' foundation in math and enthusiasm for academics. In the 21 weeks of tutoring so far this year, we have completed 28,313 sessions equivalent to over 14,000 hours of 1:1 tutoring!

We hope to be able to return to schools and continue working with students once the immediate emergency has passed. We will be in contact with current volunteers regarding programming as more details unfold.

Upcoming Events Postponed:
Our Resilience film screening scheduled for March 31st has been postponed. We will share a new date once it has been rescheduled. Find out more about other upcoming events on our Current Volunteers page.