Current Volunteers
Welcome Heart Tutors! We are thankful for participation in Heart Tutoring this school year. This page is dedicated to you. Here you will find tutoring updates, along with optional resources that you can use both on your own and with other tutors.

Latest News:
Hear the latest updates in a message from Heart's Executive Director!
Tutor training looks different from previous years! The steps to begin tutoring are outlined below. If you aren't sure where you are in this process or have questions along the way, email tayler.fisher@hearttutoring.org for more details.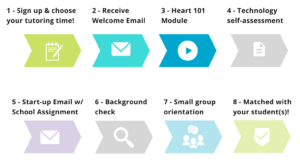 Community Building with Other Tutors:
On Your Own:
"Thank you!" from last year's teachers and school staff!
We love our volunteers! During the 2019/20 school year, over 1,300 Charlotte community members tutored across Heart Tutoring's 23 school partners, helping students build the strong foundation in math and enthusiasm for academics needed for long-term success.
"There are always smiles and high fives. The one-on-one lessons are extremely beneficial in building self-esteem and allow children to have lots of fun while learning." – 3rd grade teacher at Bruns Avenue Elementary (2019/20)
"My experience with Heart Math Tutoring has been fabulous. The students are eager to go. They love to share what they have learned when they come back to class. They build strong relationships with their tutors." – 4th grade teacher at Huntingtowne Farms Elementary (2019/20)
"The program and volunteers are fantastic. The one-on-one intensive math work is so helpful to our students!" – 2nd grade teacher at Greenway Park Elementary (2019/20)
"This has been an overall positive experience for my students. They love working with their tutors and I have seen an increase in their confidence. The tutors are reliable and my students look forward to their sessions! Keep up the great work!!!" – 1st grade teacher at Myers Park Traditional School (2019/20)
"I love how excited my kids get to see their tutors in the morning. It makes my heart happy." – 3rd grade teacher at Montclaire Elementary (2019/20)
Volunteer Spotlight